Workspace Solutions for Architects & Interior Designers
Innovative Workspace Solutions with Tailored Support for Architects and Designers
Looking to Incorporate Whiteboard, Magnetic, and Projection Surfaces
Workspace Solutions for Classrooms, Office Spaces & More
---
Since 2009, Smarter Surfaces has been at the forefront of workspace interior design, supporting architects and designers in creating classrooms, meeting rooms, and office spaces that foster collaboration and teamwork.
Our award-winning products are used by world-leading organizations, including IJP Architects, InFABric Architects Paris, and many members of the Royal Institute of British Architects, to create workspaces where entire walls serve multiple functions - whiteboard, magnetic, and even projectable.
Why Work with Smarter Surfaces for Writable and Collaborative Surfaces?
Experts with 15+ Years of Experience: Our architectural and designer support expertise makes us an industry leader in supporting workspace design.
Technical Experts in Innovative Surfaces: Our in-depth knowledge as an innovator and manufacturer enables us to recommend the best surface applications for your project.
Award-Winning Products: Our offerings have garnered multiple accolades for innovation and performance.
Performance Certified: Our workspace interior solutions are rigorously tested for fire, quality and durability.
Widest Range of Products: From whiteboard to magnetic and projection surfaces, we offer the most comprehensive product range.
Architect and Designer Dedicated Support: Personalized assistance for professionals in the architecture and design industry.
Trade Prices and Accounts: Enjoy special trade prices and manage your projects through dedicated accounts. Get in touch for your order specific discount.
Free Samples: Evaluate our products in real-time scenarios before making a commitment.
Dedicated Advisors: Available for on site or video consultations to meet your specific project requirements.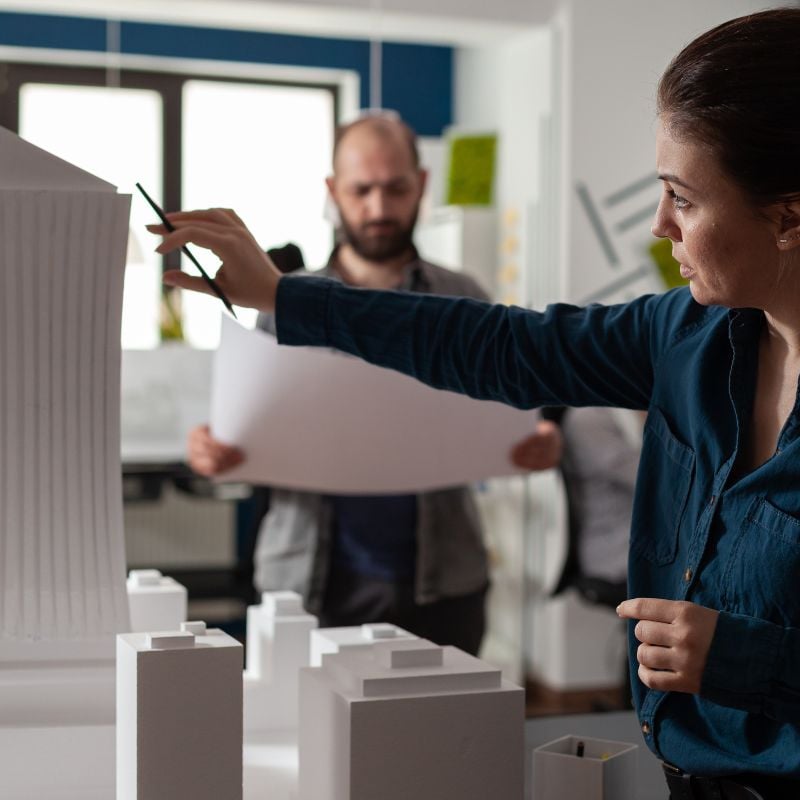 Transforming Entire Spaces – IBM Porta Nuova Italy
This project entailed the redesign of 10000m2 of office space, incorporating 1,100m2 whiteboard and magnetic walls across three buildings. The initial enquiry originated from a leading architect firm. After meticulous consultation and understanding the workspace design needs, Smarter Surfaces proposed a comprehensive workspace solution. A sample room was prepared for client approval, leading to a successful completion and positive feedback.
"Smarter Surfaces contributed significantly to this office redesign being a huge success story, with their expertise and simple yet highly effective products. Truly a partner, not just a vendor." -Project Manager - Marco Vella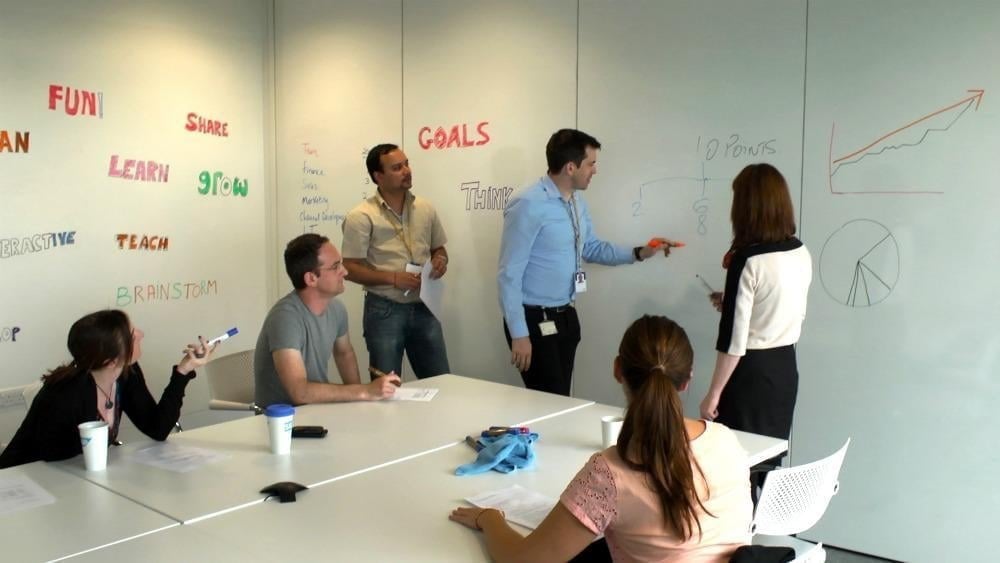 Video Caption:See Paul Kennedy from SAP on video discussing the project and Smarter Surfaces impact
Converting Walls Into Creative Spaces - SAP, Citywest
We partnered with SAP, a global leader in enterprise software, to transform their new offices into creative hubs for workspace interior design. Smart Whiteboard Paint was used to convert general office walls, moveable walls, meeting rooms, and even canteens into brainstorming canvases. All internal perimeter walls were coated in the whiteboard paint and all internal moveable walls totalling 2,000m2. The project has been so successful that SAP has applied the same approach to their other offices, proving the transformative power of effective workspace solutions and designs.
"Smarter Surfaces made our walls canvases for creativity. The impact was so positive, we're rolling it out to other offices. A real game-changer." -Paul Kennedy — Director of Facilities, SAP
Workspace Solutions for Collaboration - Millennium
Collaborative workspaces are at the heart of modern office design. Smarter Surfaces excels in creating areas where employees can brainstorm, discuss, and create. With our wall surfaces serving as large, versatile canvases, the possibilities for team collaboration are endless. In fact, Millennium, an IT company, transformed their meeting areas and public spaces using magnetic whiteboard paint. The result? More dynamic, interactive discussions and enhanced workplace efficiency.
"Smarter Surfaces transformed our workspaces into hubs of collaboration. The whiteboard paint isn't just a product; it's a catalyst for creativity and collaboration."-Paul Eastly - Head of Operations, Millennium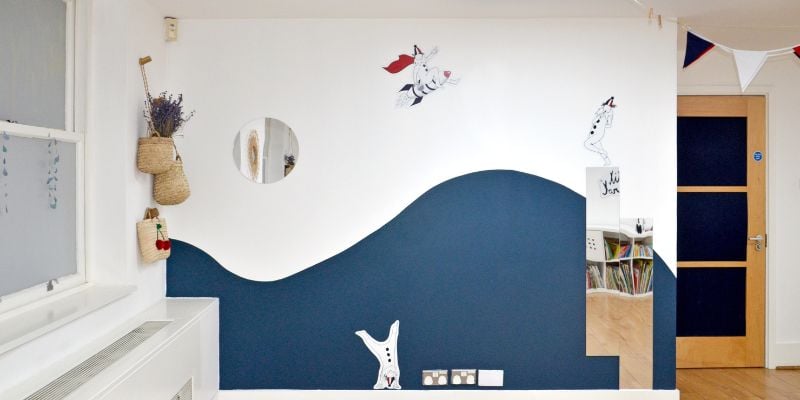 Enhancing Dynamic Learning in Education - Club Petit Pierrot
Club Petit Pierrot used Smart Projection Magnetic Whiteboard Wallpaper to turn classrooms into interactive learning spaces. Teachers found the new setup increased lesson dynamism and allowed for whole-class interaction and the use of traditional teaching methods like whiteboards but combined with technology through interactive projectors. The extended workspaces also enabled more physical movement, keeping students engaged. Instead of being confined to desks, students could freely move around the room, engaging with different surfaces, helping focus and participation.
""Smart Whiteboard Paint has revolutionized our teaching. Lessons are now more dynamic and interactive, enhancing student focus and participation." -Stella Bataille— Headteacher, Club Petit Pierrot

Workspace Solutions for Individuals - Google
Smarter Surfaces isn't just about collaborative workspace design; we also cater to the needs of individuals seeking a focused work environment. 'Telephone booths' and other quiet zones are designed with surfaces that help individuals brainstorm and jot down ideas without distractions, enhancing overall productivity
"Smarter Surfaces have redefined personal workspace. Their idea to add whiteboard surfaces to our 'telephone booths' was great, as employees can visualize problems as they work."-Ronan Harris - Google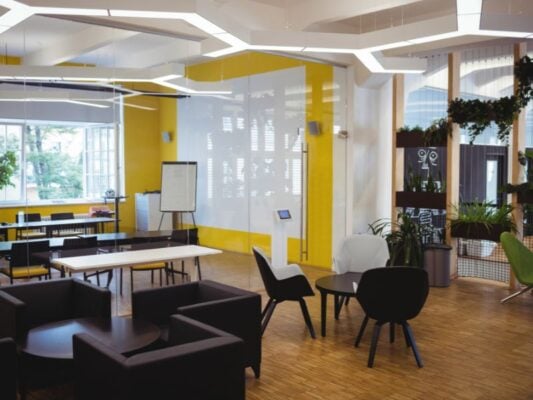 ---
Consultation and Support
Smarter Surfaces has built a reputation for providing exceptional support to architects and designers for workspace solutions.
Our services include:
Consultation: Video or phone calls with our in-house technical experts.
On-Site Meetings: Personalized discussions at your office or client site.
Free Samples: Try before you buy to ensure the products meet your needs.
Resources for Architects & Designers
---
Join Us
Whether you're an architect or a designer looking to transform an educational environment, a corporate office, or a multifunctional space, Smarter Surfaces offers the expertise and product range to make your vision a reality. With our robust range of whiteboard, magnetic, and projection surfaces, your workspace design possibilities are limitless.